featuring Rolan Bolan, Gloria Jones & Richard Jones


The film is a portrait of a young musician, whose journey of self-discovery begins with the investigation of his legendary father: glamrock icon Marc Bolan (T-Rex). Marc Bolan's life ended tragically when Rolan was just 2 years old. To escape media outrage, Rolan's mother, Motown recording artist and accomplished songwriter Gloria Jones, fled from the United Kingdom immediately following the accident. Raised in Los Angeles, far from his father's legendary shadow, Rolan, as he enters adulthood, discovers the mystery of his rockstar father. Rolan, has a passion for creating music. On the verge of breaking through, Rolan gets invited by the British PRS (Performing Rights Society) to reveal a memorial stone for his father. It has been a lifetime since he was in London. The minute Rolan arrives, he gets picked up by the media. The European story begins. Record Labels, concerts, interviews... Everybody wants to know and hear what Rolan has been up to. He is immediately made a celebrity in London, and filmmaker Peter van Houten captures the moment on film.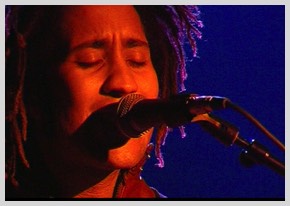 Directed Edited and Shot by
: Peter van Houten

Additional camera
: Mark Bakker
Shot in
: Los Angeles, Atlanta, London, Manchester, Paris, Johannesburg, Amsterdam & Rotterdam
Produced by
: Peter van Houten, Frank Krom
Associate producer
: Fiona Ross
Featuring
: Rolan Bolan, Gloria Jones, Richard Jones, who died shortly after the filming and Harry Feld.
Music by
: The Brothers Bounce: Brian Lapin, Kevin Feyen, Darryl Cross, Peter Kim, Sierra & Planet Swan, the Bolan & Jones family, Rolan Bolan & Mercy Mercy: Rolan Bolan, Jimmy Sweet, Kyle Styles, Bert Thomas, Courtney Jordan, Dee Bunbury
With the support of
: Herman P. Koerts, Ferry Bank, Martin Barden, Paul Bloemers, Charlotte Bunbury, Basil Caleyros, Thomas Galido, Robbert Giesselbach, Kees de Groot, Alex van Hoorn, Rob van Houten, Yvonne Kok, Chris Mitchell, Erika Overink, Maaike Roos, Olivier Ruit, Theorema Films, Maarten Walters. © 2004 Universal Brothers